Thermoforming is a process of transforming plain plastic foil into a three-dimensional shape by heating, vacuum and air pressure.

In short, the thermoforming process involves pushing a heated plastic sheet against the mould to produce the desired shape. The forming cycle starts with sealing the clamped preheating sheet to the mould. Then, when the sheet is still within the proper forming temperature range, vacuum or air pressure is applied to form the sheet onto or in the mould. Once formed, the vacuum action is reverted and the air is blown in to separate the sheet from the mould.
Vacuum is applied by drilling venting holes in the mould and connecting to the vent hole of the vacuum pump.

In addition, a water cooling system is provided to cool the forming mould. As the sheet cools, it retains the details of the mould that formed it.
The pressure applied by ordinary vacuum forming is limited to atmospheric pressure, which may not produce sufficient definition in some applications. In this case, vacuum and pressure forming can be used. This technology involves a machine with a sealed pressure chamber on the top of the moulding, in which compressed air is pumped during the moulding process, thereby increasing the pressure to pull the material onto the mould.
Compared with vacuum forming, the production cycle of pressure forming is faster, because the sheet can be formed at lower temperatures with higher part definition.
As the higher pressure forces the sheet into the mould, the finished parts show more mould surface details, such as lettering or surface texture.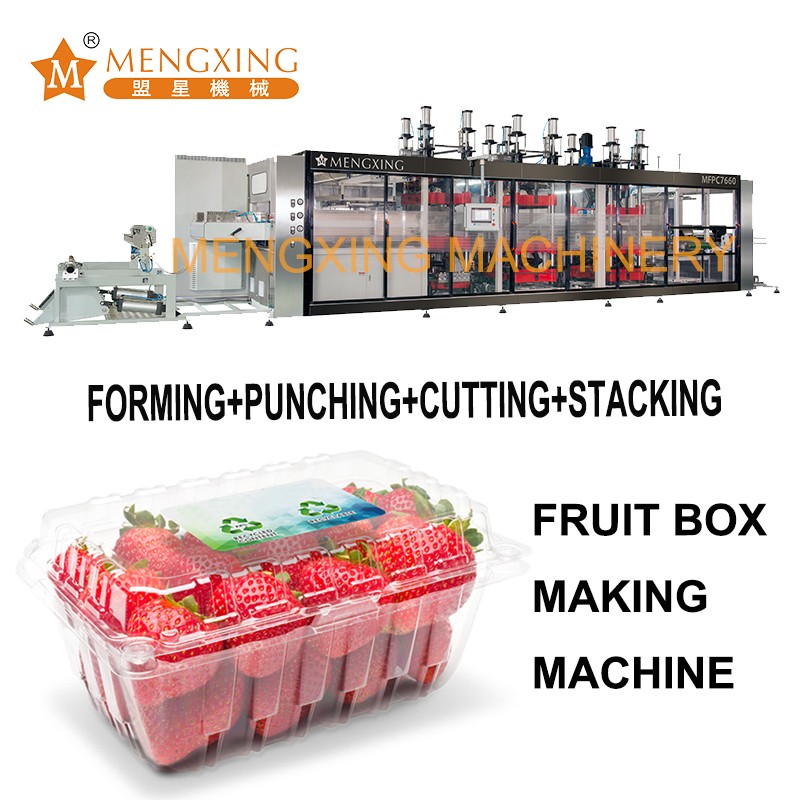 MENGXING MFC9070 3 STATIONS THERMOFORMING MACHINE INTRODUCTION:
With more than 20 years of experience in the field of thermoforming and the amount of feedback from our customers' practice, MFC9070 show more advantages in thermoforming machine industry.
1) Big forming area, Max. 900mm*700mm. Max. sheet width is 940mm, Sheet feeding length is 700mm.
2) Add a more reliable gas-off protection function to our automatic mould locking system.
3) 20 minutes quick mould changing system, which records the position data of each station by the electronic ruler.
4) The mould clamping force is 80 tons, cutting force is 100 tons.
5) Forming mould can be installed with servo plug assist.
6) Thermoforming mould could be customized Cut-in-Mold design.
7) Fastest could run 40 cycles per minute with a PET sheet.
Any questions, welcome to contact us!
Shantou Mengxing Package Machinery Co., LTD.