Differences between thermoforming/ vacuum forming/ blister machine and injection molding machine
1. Different production methods:
The production way of vacuum forming/ thermoforming machine is heating the plastic sheet, pushing out the sheet, bonding the sheet and the mold by suction, and then forming by cooling.
The production way of injection molding is make the plastic particles dissolved into a semi fluid, injected into the mold by pressure, and finally molded by water cooling.
2. Different types of uses:
Vacuum forming/ thermoforming/ blister product is widely used in electronic products, digital products, toys, stationery, hardware accessories, etc. The types of Blister products include blister box, blister shell, blister tray, blister cover, etc.
Injection molding is usually used for mobile phone shell, computer shell, plastic cup, mouse shell, hardware shell, etc.
3. Different production cycle:
Blister product is a kind of hot soft production mode, which can blister multiple products by multiple molds at one time.
The production cycle of injection mold is longer, which is produced by pressing multiple products with a single mold shape, and the product is directly formed without further separate punching.
4. From the practical application aspect:
Blister belongs to packaging products, and injection belongs to products, the same is that both belong to the plastic products.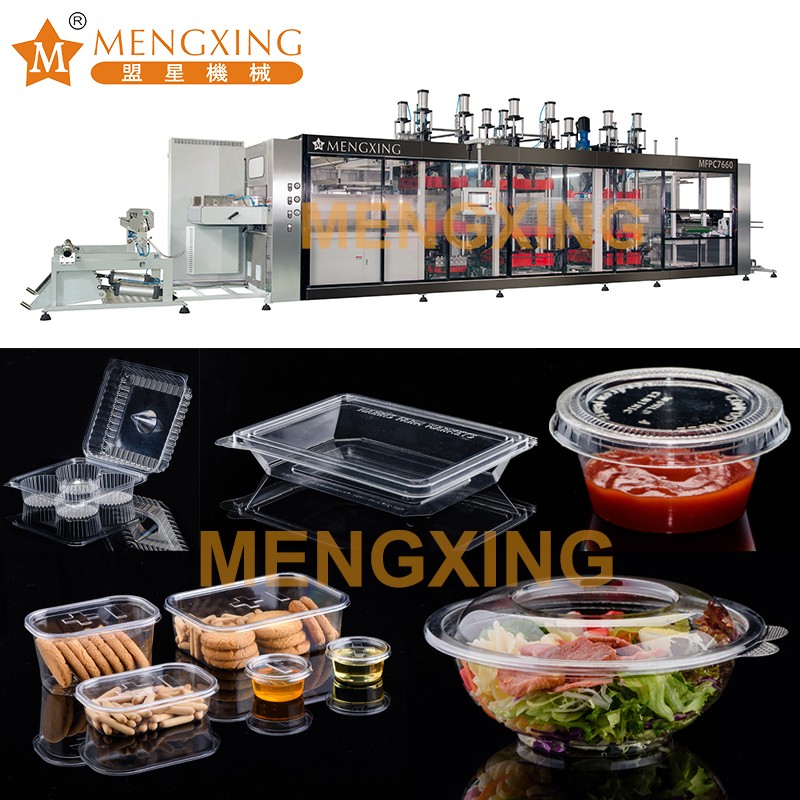 The main advantages of blister packaging are saving raw and auxiliary materials, light weight, convenient transportation, good sealing performance, meeting the requirements of environmental protection and green packaging; it can package any special-shaped products without additional cushioning materials; the packaged products are transparent and visible, beautiful in appearance, easy to sell, and suitable for mechanized and automatic packaging, convenient for modern management, saving manpower and improving efficiency.
Backed by over 20 years of thermoforming industry experience, MENGXING VACUUM FORMING MACHINE has the expertise and knowledge to design and manufacture professional grade thermoforming machine into the custom application you require. Our fully automatic thermoforming machinery solutions offer extensive advantages, including structural stability, testability, cost efficiency, and control accuracy effectively. Our customers know they can rely on our machines to help their business better and better.
Shantou Mengxing Package Machinery Co.,LTD. is a professional thermoforming/ vacuum forming/ blister machine manufacturer more than 20 years.